ADDRESS
Matsushita Lab., Multimedia Engineering, Graduate School of Information Science and Technology, Osaka University
1-5, Yamadaoka, Suita-shi, Osaka, Japan, 565-0871
Phone: 06-6879-7825 (Professor) 7826 (Associate Professor) 7823 (Assistant Professor) 7822 (Lab)
Fax: 06-6879-7827
GETTING HERE
WE ARE LOCATED IN SUITA CAUMPUS OF OSAKA UNIVERSITY.
Take a Hankyu bus departing "Senri-Chuo" bound for "Handai Honbumae" or "Ibaraki Mihogaoka", and get off at the "Handai Honbumae" bus stop. Approx. 5 mins walk from the bus stop to our building.
By train, from Kitasenri station of Hankyu Kitasenri line, it is 20 mins' walk. Or, from "Osaka University Hospital station" (or "Handai byoinmae" station) of Osaka Monorail, it is 10 mins' walk to get to us.
If you take a taxi, tell the driver that you are getting to "Johokagaku Kenkyuka" (in English, Graduate school of Information Science and Technology, or IST) in Suita Campus.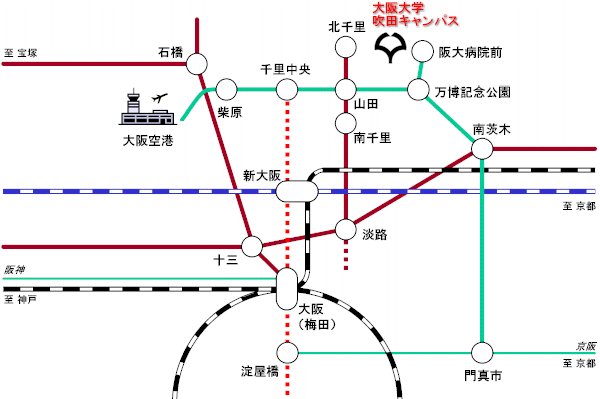 Once you are at Building C of IST, go up to 7th floor where we are located.